Illinois state Rep. Blaine Wilhour (R-Effingham)
State Rep. Blaine Wilhour's (R-Effingham) frustration is apparent upon hearing the news that the wife of recently indicted Chicago Ald. Ed Burke now holds the position of Illinois' most powerful judge.
"The whole thing speaks to how backward our system is," Wilhour, serving his first term as state representative in the 107th District, told the South Central Reporter. "It's just another example of one party, one ideology, having all the power in the state. When that happens, you're going to get this kind of corruption."
Earlier this month, Illinois Supreme Court Justices elected Justice Anne Burke Chief Justice, even as her husband faces a 14-count federal indictment on corruption charges as the city's longest serving alderman.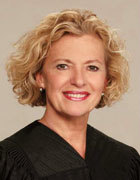 Illinois Supreme Court Chief Justice Anne Burke
Among Anne Burke's new responsibilities is the job to "consider the work of the courts" and propose improvements to the courts and to "the administration of justice."
An attorney by trade, Ed Burke is accused of shaking down the owners of a neighborhood fast food restaurant in an attempt to pressure them into hiring his private law firm to handle their property tax appeals.
"Public corruption is one of the biggest problems that we have in the state of Illinois," Wilhour said. "It's an epidemic, and one of the things that keeps us from being able to move forward with good government. Having Justice Burke as the Chief Justice on the Supreme Court sends an appalling message to those wanting to clean up government in Springfield. Everybody is innocent until proven guilty, but when you're on the Supreme Court, the Supreme Court should be completely above reproach. What are the chances that Justice Burke had no idea about all the nefarious dealings that Ald. Burke was up to?"
Wilhour argues that the political baggage attached to the new Chief Justice doesn't end there.
"There was never any public explanation about her own improprieties," Wilhour said of the Burkes holding a political a fundraiser at their home in support of Cook County Board President Toni Preckwinkle's unsuccessful mayoral bid. Preckwinkle later publicly claimed Anne Burke arranged the fundraiser, which occurred roughly four years after Preckwinkle hired the couple's son to a county position at a salary of almost $100,000 and resulted in the judge facing a complaint of judicial misconduct.
"With Toni Preckwinkle, supposedly that was cleared but there's nothing public about it," Wilhour said. "There needs to be a different standard. Any elected office has to be held to a different standard, and certainly for any high-court position. If she had any sort of respect for the system, she would never allow it to be diminished the way it is."